Our conversation with B.Baatarmunkh, CEO of Newcom Group, focused on the renewable energy projects undertaken by the company over the past three decades. "We are actively pursuing the ambitious goal of exporting renewable energy to the Northeast Asian region," said B.Baatarmunkh.
-Two decades ago, Newcom didn't just talk about new energy – it took concrete steps and successfully completed its first renewable energy project. This marked a pivotal realization that Mongolia's natural resources can be harnessed for energy production. Moreover, Newcom played a pioneering role by establishing a new industry and introducing novel concepts and standards. Could you please provide further insights into the projects that initiated this new era of energy exploration, endeavors, and innovative initiatives?
-The founders of our company have always placed great significance on environmental protection, as it aligns with their personal visions and values. Through their inquisitive nature, they discovered that Mongolians could harness the inherent power of wind for our benefit. Twenty years ago, we realized that renewable energy would play a significant role in combating global warming and promoting sustainable development in Mongolia.
Thus, driven by the belief that renewable energy would shape the future of the world and actively contribute to the growing momentum in this field, Newcom made the strategic decision to venture into renewable energy, initiating our first Salkhit Wind Farm Project in 2003. It took us a span of 10 years to successfully implement the project, which began generating Mongolia's first wind energy.
During the 10 years of project implementation, we conducted extensive research and assessment of wind resources, created a comprehensive wind resource database, explored wind turbine technology, selected the most modern technical equipment suitable for Mongolia's conditions, and cooperated with the government to establish a legal framework in the field of renewable energy.
Salkhit wind farm marked a significant milestone as the first major investment by the private sector in the renewable energy field, during a period when there had been no substantial investments made in the traditional energy sector in Mongolia for thirty years. While the development of the first project required 10 years, the Tsetsii Wind Farm Project commenced its operation in 2012 and successfully began generating electricity in 2017.
Newcom made the strategic decision to venture into renewable energy, initiating our first Salkhit Wind Farm Nproject in 2003
-Starting something new is inherently challenging, particularly in circumstances where understanding and information are lacking. You must have faced numerous challenges along the way.
-Indeed, there were many challenges. Our founders were often asked, "Mongolia is a coal- based country and will solely rely on coal. Why are you discussing wind farms?" However, we firmly believed in the abundance of wind resource in Mongolia and the potential of producing sustainable and environmentally friendly energy. Despite our limited knowledge about wind farms, we made sincere efforts to learn, study, and diligently pursue a path aligned with global practices.
The establishment of government policy and legal regulations in the field of renewable energy was crucial. In 2007, the adoption of the Law on Renewable Energy in Mongolia marked the initial steps towards shaping the legal framework. Project financing presented another significant challenge, requiring extensive research, analysis, and implementation efforts.
To meet the project financing requirements, it was necessary to have a database of on-site wind assessment spanning a minimum of five years, as well as ensure that the wind resource assessment met the standard requirements and was objectively evaluated by a foreign professional organization.
Our efforts conveyed a positive message both nationally and internationally, showcasing the possibility of developing renewable energy and establishing wind farms in Mongolia. We remain dedicated to upholding and expanding upon the principles and concepts we embraced 20 years ago.
-Just as we have discussed the challenges faced 20-30 years ago, it is likely that Newcom's ambitious goals for the next three decades will also present their own set of challenges.
-With a strong desire to actively work towards our ambitious goals, we seized the opportunity to join the esteemed Dii Desert Energy organization as its 100th member, marking our initial stride towards progress. This organization comprises the world's leading companies in the renewable energy sector.
Mongolia's proximity to China and its abundant renewable energy resources were the key factors behind the organization's invitation, as it recognized Mongolia's potential to become a significant regional player in new energy development. Our southern neighbor has conducted extensive research and is prepared to implement projects in the renewable energy sector.
However, they express concern about the lack of clarity in the government's policy, frequent changes in decisions, and the difficulty in carrying out work efficiently and engaging in consistent negotiations. Now is the ideal time for Mongolia to begin its journey towards becoming a renewable energy exporter and driving significant economic development.
Following the global impact of the COVID-19 pandemic, there has been a substantial surge in support for sustainable development worldwide. What was once merely discussed a few years ago has now translated into tangible capital investments. Contracts worth billions of dollars are being negotiated and executed for renewable energy  projects across the globe.
Concurrently, China's rapid development and soaring energy consumption have resulted in power shortages in various regions. This situation presents a promising opportunity for Mongolia. By implementing a specific and precise policy, the government can unlock favorable opportunities for the country's renewable energy sector.
Now is the ideal time for Mongolia to begin its journey towards becoming a renewable energy exporter
-What type of policy and legal framework should the government establish?
-Currently, there is a lack of clarity and a detailed plan for energy export. It is crucial to have a responsible entity in charge of implementing the policy and addressing the challenges of volatility and uncertainty. The government must fulfill its obligations by implementing previously concluded agreements, as contracts are established through mutual agreement and their execution plays a vital role in achieving desired outcomes. There is a common belief that the domestic market in Mongolia is unable to bear the cost of renewable energy. However, this is not primarily attributed to the financial burden but rather underscores the necessity for liberalizing energy tariffs in the market.
At the 100th anniversary meeting of the energy industry, former President P.Ochirbat emphasized the vital role of tariff liberalization, stating that without it, investments would be hindered and that the development of the energy sector would be compromised. The Minister of Energy has echoed this sentiment, underscoring the significance of tariff liberalization. Given these compelling remarks, it is clear that a comprehensive policy, legal framework, and roadmap must be established to effectively tackle these challenges.
The tariff of small-scale renewable energy plants tends to be higher, while larger capacity plants have a lower unit cost. Therefore, we should be focused on constructing large-scale renewable energy power plants, with a significant market potential overseas. By exporting 5 GW of energy to China, the tariff can be reduced, attracting financing and investment and providing a substantial boost to the economy. Although 5 GW may seem insignificant to our southern neighbor, it is significant for us, being 3.5 times more than our domestic peak load.
Therefore, renewable energy export policy and support are needed. Hence, there is a need for an export policy and support for renewable energy. This approach will establish a foundation for the rapid development of renewable energy, enabling us to meet domestic needs and export the surplus at a low cost. It is crucial to coordinate policies between the two countries at the government level and develop a favorable legal environment. By involving the private sector, mega projects can be undertaken without straining the state budget.
Having dedicated three decades to establishing the groundwork for high-tech development, Newcom is now embarking on a phase of intensive development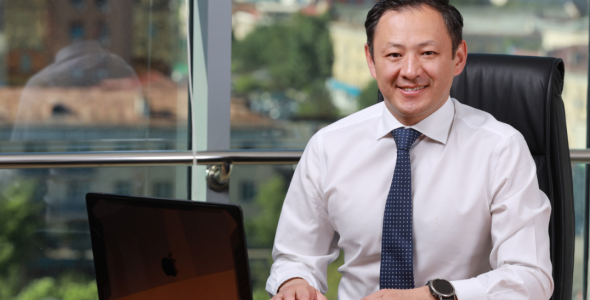 -How do you envision the future of Newcom in the next 30 years?
-After Mongolia transitioned to a market system three decades ago, Newcom made significant efforts to establish the necessary foundations for our country's development. The current global landscape presents us with favorable circumstances to leverage emerging opportunities in the high-tech industries and advance our progress. Having dedicated three decades to establishing the groundwork for high-tech development, Newcom is now embarking on a phase of intensive development.
The successful implementation of projects such as Salkhit and Tsetsii has proven the realization of our ambitions. We are now focused on further developing our core business in renewable energy and expanding our presence in the region and Asia. Our ultimate goal is to make energy a formidable economic force and position it as a valuable export commodity.
We aim to contribute to the advancement of our country through the development of high-tech industries. We have ambitious plans to establish ourselves as the leading company in our industry and region by 2030. Additionally, building on the success of the Mobicom project, we are initiating research and collaborations with partners to develop a digital business that can match the impact of Mobicom.
Our goal is to export Mongolia's intellectual capabilities to the global stage. By 2040, we envision expanding our operations not only within the region but also worldwide. Looking ahead to 2050, we are driven by the vision of diversifying our portfolio and venturing into new industries beyond our current scope of operations.